Rejuvenate Your Morning Routine with the Morning Bundle!
Waking up in the morning, the weight of a busy day ahead pressing down, and feeling like our energy is stuck in first gear and it keeps getting worse with age. Sounds familiar? We have all been there. Low energy and losing the ability to focus and function efficiently can hurt your productivity and be a daunting hurdle to get through the day. But fear not, as our Morning Bundle is here to be your morning saviour.
Experience the dawn of a new, invigorating day with our Morning Bundle, a powerhouse trio designed to kickstart your mornings and supercharge your vitality. Harness the potent benefits of NAD+ Brain, NMN, and TMG to embark on a journey of enhanced cognition, cellular rejuvenation, and lasting energy.
The morning bundle combines the power of our new NAD+ Brain with the ultimate anti-ageing best sellers NMN and TMG to give you the ultimate anti-ageing experience and support your body and mind needs as the demands of life increase.
NAD+ Brain: Ignite Your Mind's Potential
The NAD+ Brain nootropic blend combines a thoughtful selection of ingredients designed to provide both short-term cognitive benefits and long-term brain support. By incorporating this blend into a balanced lifestyle that includes proper nutrition, regular exercise, and ample rest, you may unlock the full potential of your mind and achieve optimal cognitive performance throughout your life.
Dive into the day with unparalleled focus and mental clarity.
Elevate your memory, ensuring nothing slips through the cracks.
Navigate the fast-paced world with cognitive resilience and precision.
Foster a balanced mood and unlock your creative genius.
If you are already taking NMN (perhaps combining it with TMG for increased efficiency), the Morning Bundle is an excellent upgrade to invest in the long term health of your Brain. Along with the short-term benefits, this blend was aimed at offering an ongoing supports for the most precious cells in your body, your brain cells!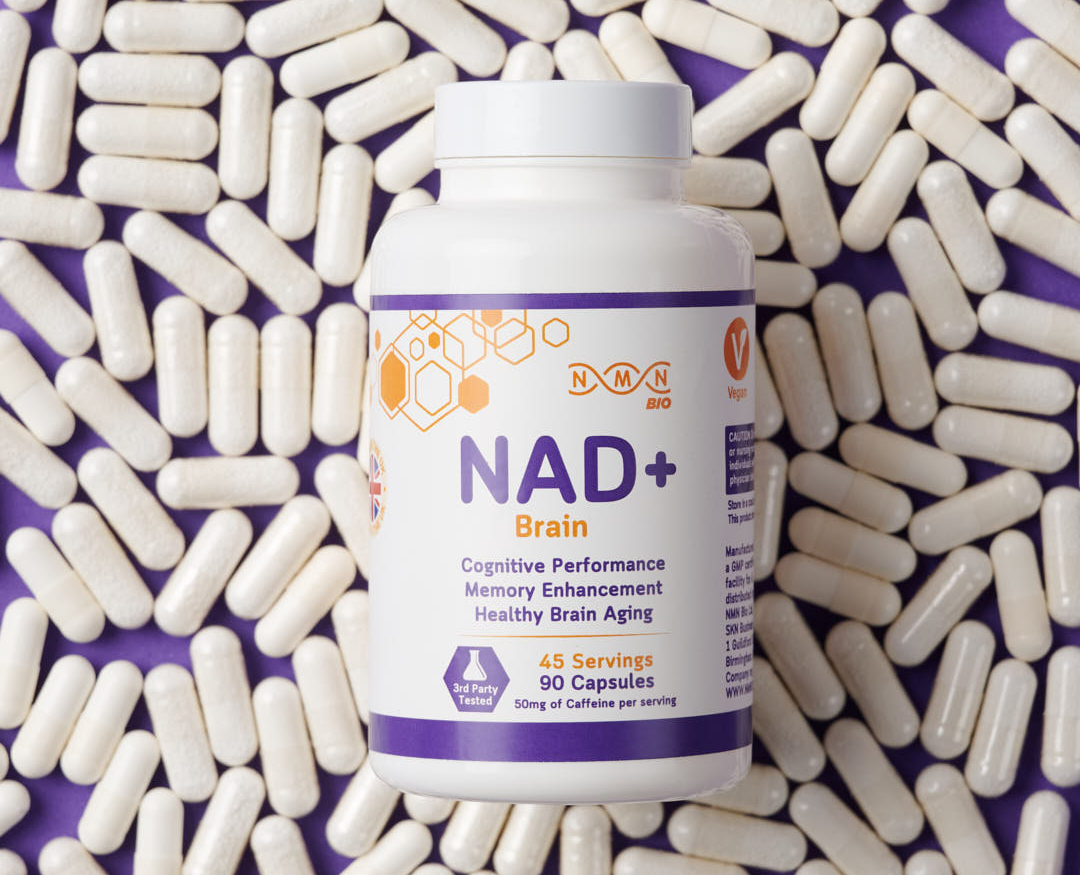 NAD+ Brain: Ingredients that Inspire Brilliance

Caffeine: Ignite your focus and alertness with a precise dose of caffeine, a well-known cognitive enhancer that stimulates mental energy and attentiveness.
L-Theanine: Unwind and sharpen simultaneously. L-Theanine, combined with caffeine, fosters a harmonious synergy that promotes calm focus without the jitters.
Apigenin: Nature's calm-inducer. Apigenin supports a tranquil mind, reducing stress and allowing your cognitive brilliance to shine.
Fisetin: Nurture your neurons. Fisetin, a flavonoid with neuroprotective properties, contributes to brain health and longevity.
Vitamin C: A guardian against oxidative stress. Vitamin C supports brain vitality by combating harmful free radicals.
Citicholine: The fuel for your mental engine. Citicholine enhances neurotransmitter production, empowering memory, focus, and cognitive processing.
Inositol: Elevate your mood, fortify your focus. Inositol plays a crucial role in neurotransmitter signalling, promoting cognitive balance.
Phosphatidylserine: The brain's guardian. Phosphatidylserine supports cell membrane health, aiding memory retention and cognitive function.
L-Tyrosine: The stress-buster. L-Tyrosine enhances cognitive resilience during challenging situations, ensuring mental clarity.
Vitamin B6 and Vitamin B5: The dynamic B-vitamin duo supports cognitive function and energy metabolism, keeping your mind agile.
Sharpen your memory. Zinc contributes to neural communication and memory formation.

NAD+ Brain Formula is carefully engineered to harmonise these premium ingredients, synergizing their effects to deliver a heightened cognitive experience. Whether you're navigating a demanding workday, tackling academic challenges, or seeking enhanced creative output, NAD+ Brain Formula is your ultimate cognitive ally.


NMN (Nicotinamide Mononucleotide): The King of Anti-Ageing

Nourish your cells and boost your NAD+, the most essential component of human metabolism. Double your NAD+ levels in 2 weeks and feel your best while getting things done. The best remedy for getting rid of your need for an afternoon nap.

Revitalise your cells and promote longevity.
Enhance energy production at the cellular level.
Support DNA repair for optimal cellular function.
Boost metabolism and overall vitality.

TMG (Trimethylglycine): Energise Your Body and Mind

Support your DNA repair and give your cells what they need on a daily basis. TMG acts as a methyl donor, supplying the essential methyl groups for NMN to do its job more efficiently, and for processes such as DNA expression and neurotransmission.

Experience sustained energy without the crashes.
Optimise methylation processes for better cognitive function.
Support cardiovascular health and homocysteine metabolism.
Promote a vibrant, alert start to your day.
The Morning Bundle is your ticket to transforming those sluggish mornings into moments of clarity, focus, and vitality. It's time to rise and shine with the Morning Bundle and embrace each day with the energy and cognitive power you deserve.
FEATURED IN





Worth to try
NMN Bio products that you may like
Worth to try
NMN Bio products that you may like
FAQs
What are the benefits of NAD+ Brain?

After 18 months of R&D, we launched this product to help people stay focused, productive throughout the day by providing both short term and long term benefits.

The short term benefits of NAD+ Brain are mental alertness and concentration. The optimised Caffeine to L-Theianine ratio ensures you are on top of your game without the usual caffeine dip 30 minutes after your morning espresso shot. The vitamins B and C in NAD+ brain may assist with enhanced memory too!

The long term benefits of our proprietary blend are focused on neuroprotection, ensuring your brain is safeguarded from oxidative stress, to push back cognitive decline. Apigenin, a natural compound derived from grapefruit, blocks CD38, an enzyme that consumes NAD+ in your brain. This way, NAD+ is preserved to be utilised by SIRTUINS and PARPS, the family of enzymes that utilises NAD+ for DNA repair and other vital functions. Fisetin, a bioflavonoid derived from strawberries, is a powerful senolytic that is shown to be beneficial for the function of the brain. With NAD+ Brain, your brain is performing at its best every day, and is staying healthy for as long as possible.

Why should I take NAD+ Brain and at what age?

As an adult, you can take NAD+ Brain at any age. Please note that it contains caffeine, so its not recommended for children or pregnant women.

You should take NAD+ Brain to stay focused and alert every day, to assist with mental clarity, concentration and productivity. Whether it's studying for exams, gaming, focusing on a work project or just doing what you do best, NAD+ Brain is here to assist you with your daily task and redefine the way your brain operates. NAD+ Brain is not just a nootropic supplement, it's your brain's nourishing friend that supports neuroplasticity, enhances the production of neurotransmitters like serotonin and dopamine, and guards your brain from oxidative stress and brain ageing.

What is the best time to take NAD+ Brain? And how much should I take?

The recommended dosage of NAD+ Brain is 2 pills a day. You can start with one pill a day (25mg of caffeine) and see how you feel and perform. Feel free to take anywhere between 1-4 pills a day, but always take it in the morning, as caffeine might cause insomnia. We recommend a suggested cut off time for all caffeine products at 3-4pm the latest. For some people this cut off time might be as early as 12-1pm, depending on their individual caffeine sensitivity.

Does NAD+ Brain have any side effects?

NAD+ Brain does not have any known side effects. However, people might react differently to the individual compounds in the blend. If you have a stomach ulcer, we would encourage taking NAD+ Brain with food, not on an empty stomach.

If you have any known medical conditions you should consult with your physician before using this or any other supplement. Discontinue use if adverse reaction occurs.